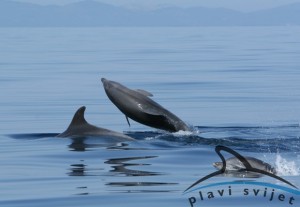 Internship program at the Blue World Institute, Croatia
Blue World Institute of Marine Research and Conservation is a non – profit organization dedicated to research and conservation of large marine vertebrates (mostly Cetaceans, sea turtles and cartilaginous fish). Their aim is to research population ecology, genetics, acoustics and habitats of bottlenose dolphins and other Cetacean species of the Adriatic sea.
The field-base is placed on the Island Lošinj in the northern part of the Adriatic. The coastline of Lošinj is extremely diverse; it consists of many large and small bays and underwater caves.
The field-base is located in the old village of Veli Lošinj (3 km distant from Mali Lošinj – the biggest island town in Croatia) on the sheltered east coast of the island.
Internship program is for all students of biology, conservation, veterinary and other related courses.
Interns will participate in all activities, including collecting and analyzing data, working in the Lošinj Marine Educational Center, giving and participating in lectures etc.
The cost of the program is 20 EUR per day. Places are available from 1st October to 30th November 2017 and from 1st February to 30th April 2018. Minimum period is one month. Further details are available in the following  PDF doc.
Those interested in internship should contact Tihana Vucur in English at: tihana.vucur@blue-world.org. Please, tell us what period you are interested in, what are you studying (current year) and enclose your CV.
For more information please check our web page: http://www.blue-world.org/en/get-involved/internship/