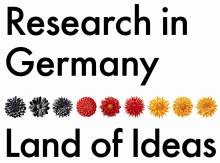 Interested in doing a PhD or postdoc in Germany with focus on Bio-Tech, Bio-Chemistry and Bio-Engineering?
Looking for a suitable programme and funding opportunities?
Take the next step in your career and join us at the "Research in Germany" matchmaking event for PhD and postdoc candidates doing research in biology and chemistry and related areas at the Romanian-Serbian Research Networking Tour 2017 in Bucharest, Romania and Belgrade, Serbia!
The event will take place on September 29th at the Metropol Palace Hotel (Bulevar kralja Aleksandra 69) in Belgrade.
Registered participants can upload information about their professional background and request one-on-one meetings with representatives of German institutions. Shortly before the event, each participant receives a personalized meeting schedule.